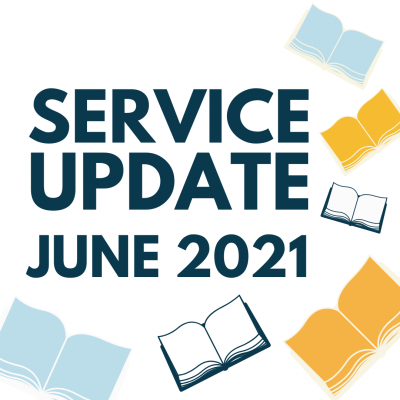 Service Update, June 2021
Happy summer! With the lifting of many COVID-19 restrictions in New York, we are revising and updating our services here at TCPL.
Our hours are Monday-Thursday, 9 am - 8 pm; Friday, 9 am - 6 pm; and Saturday, 10 am - 5 pm (Computers & Reference are available at 9:30 am on weekdays). Curbside is offered Monday, Wednesday, and Friday from 11-1 and 4-6.
Computer sessions have increased to 60 minutes.
Browsing is unlimited.
Study rooms are now available on a first-come, first-served basis.
Some chairs and tables have been returned and can be used for reading, studying, and meeting with others, with no time limits.
We will no longer quarantine materials, which will make check-in faster. Books can be returned inside the building using the book drops near the circulation desk. (Several outside book drops will also be available.)
We do still request that patrons wear masks to protect those under 12, who are not yet eligible for vaccination. Unvaccinated patrons, including those ages 2-11, are required to wear a mask.
We will continue to focus on outdoor and virtual programming throughout the summer, and at this time, do not have an exact date for when our reservable meeting rooms, Makerspace, and Digital Lab will be available to the public (but we're working on it!).
As always, if you have any questions, please email askalibrarian@tcpl.org or call 607-272-4556.
We're glad to see you!