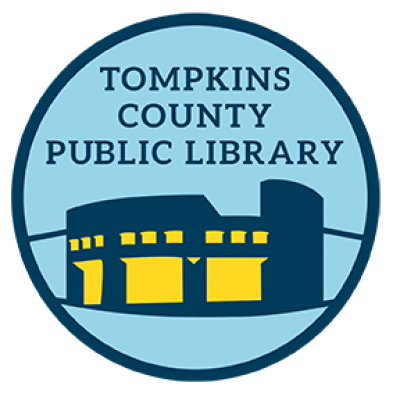 Novel Coronavirus (COVID-19) Precautions and TCPL
In response to public health concerns surrounding the COVID-19 pandemic, Tompkins County Public Library has taken precautions that may help limit the spread of the virus in accordance with recommended practices. TCPL continues to offer access to books, public computers, Wi-Fi, reference services, and a variety of resources and computers dedicated to the 2020 US Census.

Tompkins County Facilities staff have implemented enhanced cleaning protocols for increasing the frequency of cleaning surfaces. All sharable toys and games used in children's and teen areas have been placed in storage for the foreseeable future. Hand sanitizer is available for staff and library users, as available. As with any shared materials, it is recommended that Library users wash their hands thoroughly and in accordance with CDC guidelines after handling. Individuals should use their own discretion in the use of Library materials.

Secondly, in being mindful that social distancing is one part of the recommended protocol for limiting the spread of the virus, TCPL programs with attendance expected to be over 35 have been cancelled for the foreseeable future. These programs include:

• Go from Surviving to Thriving as a Family: Strategies for Balance, Meaning, and Organization, scheduled for March 21
• Mirage Belly Dance Performance, scheduled for March 31
• Beauty All around Me: Poetry and Songs by Becca Harber, scheduled for April 1
• Beyond Artist Collective Inaugural Event, scheduled for April 4
• Toddler and Preschool Storytime, weekly on Tuesdays (March and April)
• Baby Storytime and Playtime, weekly on Fridays (March and April)
• Family Storytime, weekly on Saturdays, cancelled beginning 3/21 (March and April)
• Kids' Spring Crafternoon, scheduled for March 20
• Kids Discover the Trail visits (March and April)
• Lemonade with the Ithaca Sunrise Movement, March 28
• Pokemon Club, scheduled for March 28
• Robotics Club FPV Rover Scavenger Hunt, scheduled for April 7 and April 9
• Stuffed Animal Sleepover Storytime, scheduled for April 8

Additional programs have already been cancelled. Please visit TCPL's online events calendar to check on the status of all programs.

Third, modified checkout procedures have been implemented to limit the handling of materials between patrons and Library staff. Patrons now scan their own library cards and materials at the Circulation desk. Additionally, as always, patrons may choose to use the self-checkout machines, whenever possible.

Fourth, due dates on library materials, including out-of-system Interlibrary loan items, have been extended to May 1, to facilitate social distancing should patrons find it necessary.

Many of TCPL's resources are available from home, including Mango Languages language-learning system, OverDrive's free eBook and audiobook service, and TumbleBooks for children. More available online resources can be accessed from our Research Databases page.

Please postpone library visits if you or your family are feeling unwell. Please return when fully recovered and symptom-free. The health and safety of our community, patrons, and staff is of the utmost importance to us. Although some of these changes are disappointing, they are in accordance with the guidelines recommended by the CDC in order to halt the spread of COVID-19.

Lastly, it is important to remember that COVID-19 is not connected to race, ethnicity, or nationality. Sharing accurate information from trusted sources is critical to combat misinformation. Find reliable and up-to-date information about the outbreak from the following vetted resources:

Resource Links
Tompkins County Health Department
http://tompkinscountyny.gov/health
Centers for Disease Control
https://www.cdc.gov/coronavirus/
Updates on the federal response to COVID-19, including travel advisories and national infection numbers.
World Health Organization
https://www.who.int/emergencies/diseases/novel-coronavirus-2019
Information and guidance regarding the current outbreak of coronavirus disease (COVID-19), including daily situation reports with international infection numbers.
Cayuga Medical Center
https://cayugamed.staywellknowledgebase.com/Search/134,243
Ithaca City School District
https://www.ithacacityschools.org/districtpage.cfm?pageid=1514
Tompkins County Area Transit (TCAT)
https://www.tcatbus.com/tcat-and-gadabout-taking-action-against-any-potential-impact-from-novel-coronavirus/
Ithaca Tompkins International Airport
https://flyithaca.com/2020/03/health-tips-for-travelers/
Cornell University
https://www.cornell.edu/coronavirus/faq.cfm
Tompkins Cortland Community College (TC3)
https://www.tompkinscortland.edu/coronavirus
Ithaca College
https://www.ithaca.edu/news/critical-information-about-coronavirus-related-decisions

For more information, contact Director Annette Birdsall at abirdsall@tcpl.org.