Gallery Night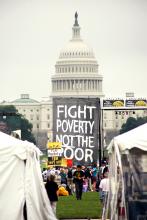 Friday, March 6
6-8 pm
Join us for our first Gallery Night of 2020!
Everybody's Got a Right to Live: The Poor People's Campaign of 1968 and Today
Tim Shenk, curator
The art and imagery of the Poor People's Campaign of 1968 and today are tools for organizing for justice and dignity. This exhibit challenges myths that blame poverty on the poor and spread a false narrative of scarcity in the world's wealthiest nation. Gallery Night attendees will be invited to add their voices to a space called "Everybody's Got a Right to ____."
This program is made possible (in part or in full) with funds from the Decentralization Program, a regrant program of the New York State Council on the Arts with the support of Governor Andrew Cuomo and the New York State Legislature and administered by the Community Arts Partnership of Tompkins County.
Memorabilia from past living wage campaigns, provided by the Tompkins County Workers' Center
Comic Books: The New Mythology
Collection from the Comic Book Club of Ithaca
Beginning in the late 1930's, comic books provided a new home for many mythic figures and characters based on them. This display will explore some aspects of this migration and provide an introduction in to Ithaca's own comic book convention, Ithacon, which will be March 21-22 at Ithaca College.
Free statement button making!